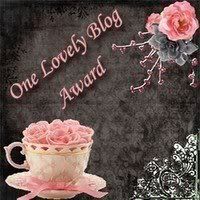 I LOVE Bling...I really do!

Well, I've been Blinged again! Thanks for this Lovely award, coming from Marlie & Me. She's got a new baby at home, and doesn't have a lot of time, so I feel special to be recognized!
Here are the rules:

To accept the award, post it on your blog, along with the name of the person who presented it to you. Don't forget to link to the presenter!

Pass the Lovely Blog Award along to 15 blogs that you've newly discovered.

Remember to contact your Chosen 15, so they know that they're the lucky winners!
So, here goes! I'm new at this Bling Thing, and every blog is new to me, so hope you enjoy this as much as I do!

Enjoy your Bloggy Bling, folks! This is my first time at Six-Word Saturday. Try to tune in, OK?